It's been a little over a week and already a new installment has been necessitated. The Season 5 premiere title has been released, showcased in the title of this post, "What Color Is Your Cleansuit?". If you haven't been on the up and up or you need a reminder of what the hell is going on, sit tight. We can take this journey together!
First order of business: Season 5 Premiere at Nitehawk Cinema & Alamo Drafthouse
Opportunity arrises to earn some bragging rights for seeing the premiere before everyone else! The Season 4 finale and the Season 5 premiere are set to be shown at Nitehawk Cinema in Brooklyn (May 29) and various Alamo Drafthouse locations (May 28) as well as Cinemaworld in West Melbourne, FL (May 28). The Nitehawk screening is sold out, but the Alamo Drafthouse screenings are free! Space is limited, so if you plan to attend, arrive early! Also, both Nitehawk and Alamo are giving away free limited edition prints, and a chance to win original animation cells to those who get there early.
I  made haste and snagged tickets to the Nitehawk screenings as soon as I heard that it was a thing. Just envision a girl nervously trying to get their website to work on a phone browser for 10 minutes, and there you have it. Seconds later, the screening sold out. So, I will see all of the other lucky bastards May 29th!
Second order of business: Season 1-4 Recap (Narrated by Gary)
Just in case you needed a bite-sized refresher course. Or, for that special person in your life who "kind of doesn't get what the fuck is going on" in The Venture Bros. Their favorite character might be H.E.L.P.eR. "because he's a robot". You may have tried to sit them down to watch all 4 seasons, and their brains simply cannot comprehend everything that just went on. That's all fine, but these people in our lives need guidance. Steal 8 minutes of their time and show them this. A complete and thorough rundown of Seasons 1-4 as narrated by Gary (who turns into Doc Hammer in the middle of this breakdown, and then turns back into Gary. Magic!)
Third order of business: Interactive Relationship Action Map
This is pretty neat for any caliber of Venture fan. Adult Swim released an interactive map detailing every relationship in the Venture-verse. A daunting task presented with all the clickable fixings of a functioning soundboard giving just a taste of each character's personality.
So you can totally mess around with that, right over here. Also, it should go without saying that the chart and the video are FILLED with spoilers. They are spoiler incarnate. If a spoiler could be a physical thing rather than some jackass mentioning the ending of a movie to you, it would be that video and chart.
Fourth order of business: The return of Shirt Club!
The bit of news that I've been patiently waiting to become "official", Shirt Club returns for Season 5! What the fuck is Shirt Club? I'll tell you what the fuck it is! A pretty cool thing that happened alongside the duration of Season 3. Each week a new shirt was put up on the Astrobase Go! website for people to buy. The shirt was primarily a sweet looking logo that coincided with whatever episode was premiering that week. The shirt was only available to purchase for a week, and then after that it was gone. Shirt Club was a way to wear your Venture pride while fully supporting the show. Also, each design was pretty swank, you may have seen them: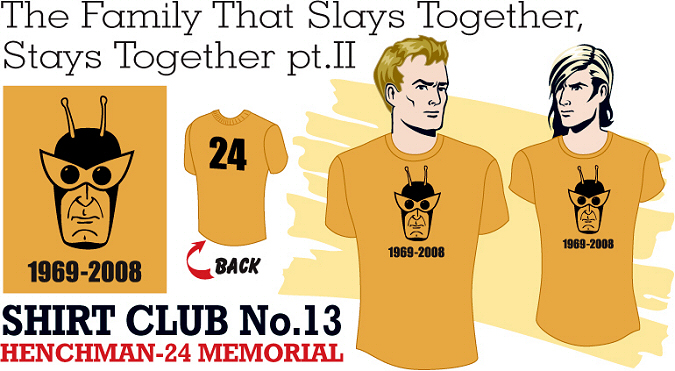 So now with Season 5 fast approaching, another Shirt Club comes with it. Will this be the end of subpar T-shirt designs on various websites? Will it produce MORE awful designs painfully ripped off and "remixed" to a point where you can't recognize the original design? Oh, probably. But that's all fine, I trust that the true believers will put their cash where it counts and get the real deal.
Fifth order of business: New promos!
We are less than a month away from the premiere, and if you haven't taken notice of basically everything in this post, we're all gearing up for it. But what good is the rush of steadily mounting excitement without some flashy new promos? An awful climax, that's what it is. Head on over to MantisEye to check out the impossible to embed videos. The first promo is more of a quick-cut sizzle reel, but the second promo has some tender meat hanging from it, like say Molotov not being dead. Ya know, that thing that 70% of fans accepted as rational humans, and the other crazed 30% deny up and down.
I've dished out all the snark I can for this post. A reminder to those not attending pre-screenings, 23 more days 'til Venture!